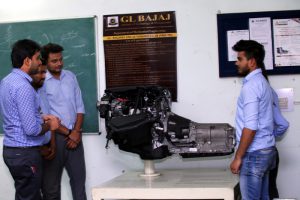 Engineering is amongst career choices which is incredibly old but still extremely popular. There are various streams of engineering which is being opted by students after their 12th. From environmental engineering to good old Mechanical engineering seats of various engineering courses get swiftly filled with students across the country. We will try to explore top ten reasons why Engineering is a popular career choice.
Pride of being an Engineer: In our country being studious has been treated as a fabulous quality, and doctors and engineers are perceived to be very studious and sharp minded individuals, This mentality attached a sense of Pride in pursuing engineering as career choice. Even in todays world when career choices can be found in various aspects of life, one of the reason for engineering courses enjoying popular status is because of this Sense of Pride.
Jobs availability: after someone completes engineering degree there are plenty career options and jobs are available, in start of career engineers gets entry easily into field related to their degree although salary for a fresh engineering graduate is comparatively lower then their medical or management counterparts but after gaining few years of experience engineers enjoys good perks and compensations. Job availability in various fields is a attraction because of which many choose engineering degree as their career choice.
Versatility: Being an engineer in a specific field doesn't mean that you are confined to that specific field, you can further enhance your skills in specialization of engineering OR one may opt for career in management or someone may switch to a different field of engineering, all in all choices are ample if you are an engineer.
Mentally challenging work: Todays generation is not very keen on having a clerical or repetitive work for whole life, they want intellectually challenging work which will keep them engaged and challenged their limits. Engineering career options present this in almost all engineering fields, be it environmental engineering OR computer engineering.
Give back to society: Potential of doing a larger good is remarkably high in engineering careers. Engineers can be innovators, as they work towards the betterment on day-to-day human life, most engineers interact and solve problems directly related to human life and this is also a very big reason for popularity of engineering degrees.
Work Environment: work environment for a engineer is also a very big factor for popularity of engineering as career, engineers work in a field and also in a mine under the ground. Engineers work in cosmopolitan cities & also in villages, engineers can be found in skyscraper building and in depth of oceans. While choosing their career people also think about work environments after education and engineering fits well into the fancy of the most as per their choice.
Stability: Financial Stability is a desired outcome of most career choices, and engineering courses offers you almost guaranteed financial security as once you gain experience its very easy to remain employed and enjoy financial security.
Every changing field: by Nature, people choosing engineering filed are mostly enthusiastic people and most engineering careers are ever evolving fields. This leads most engineers to upgrade their skills from time to time and of course grow themselves financially and intellectually. Some thought full people also take this factor into consideration while choosing engineering career as career option.
Foreign Job postings: Engineers gets hands on experience on critical work areas, they solve critical problems and get their expertise along with career growth. This increases the demand of engineers specialized in specific field/sectors. That's why engineers find opportunities & get deployed to foreign countries as well. Indian software and Petroleum talent getting lucrative offering across globe is a perfect example of such engineering career migrations.
Government sector opportunities: Engineers are required to run most of the production, developmental or infrastructure work. Whether a dam was being build OR a Highway project needs to be executed engineers are needed. Governments across the world deploys engineers for their development work this makes engineering degrees a good vantage point for entry into government work and socially beneficial work fields.
Engineers gets a very lucrative pay and standard work hours, most of engineering jobs are risk free, engineering career are intellectually stimulating, all the above factors leads to a very high level of job satisfaction and engineering as a perfect career choice.