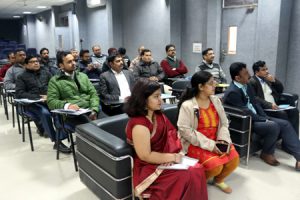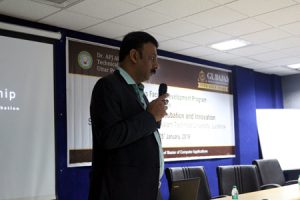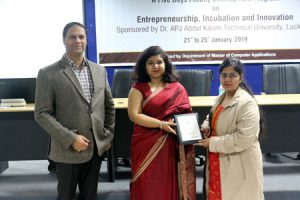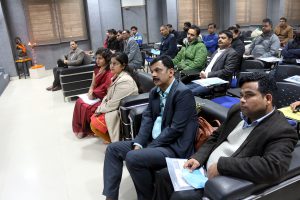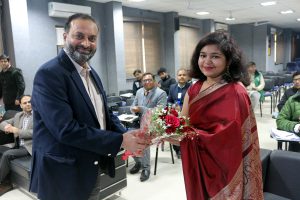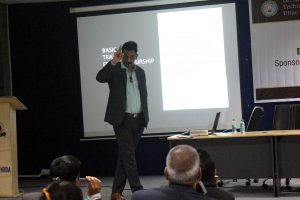 A five days FDP "Entrepreneurship Incubation and  Innovation", Sponsored by AKTU, Lucknow as Dean FET, has been successfully completed  from Jan 21 to 25, 2019.
Inaugurationof FDP was done by respected director sir and Dr. Ritika Yadav was Chief guest and Mr. Pankaj Tiwari was Guest of Honor and speaker for the day.
List of Session Speakers in FDP 21st jan 2019-25th jan 2019 on Enterpreneurship,Incubation & Innovation
S.No
Speaker Name
Designation
Company
1
Dr. Ritika Yadav
Chairperson
Invetivepreneur Foundation
President
Rashtriya Mahila Udhyami Sangathan
2
Mr. Pankaj Tiwari
Head Business Development
Avan Motors Pvt. Ltd
3
Dr. V R Mishra
Prof & Head  Mechanical Eng.
GBITM, Greater Noida
4
Mr. Manu Seth
CEO
Speaking Mindz Inc.
5
Mr. Varun Mohan
Head of Digital
Republic Media Network
6
Dr. Amit Sehgal
Associate Professor, Dept.of  ECE
GBITM, Greater Noida
7
Dr. Anubha Srivastava
Head Media & PR, Professional Communication
GBITM, Greater Noida
8
Mr. Anant Agarawal
Co-Founder & director
Skilloxide IT Pvt. Ltd.
Full Five days FDP was Enlighted with eminent speakers from Industry/Academia. This  begin with Ancient time Entrepreneurship and Incubation in Indian Perspective Including  Enterpreuereship concepts, models, Environment Scanning, Market survey, Preparing business plan, Business leadership, behavioral and Communications skills, role plays and simulations.  Domain expert also explained about Risk assessment, Reasons for failure/success financial support and capital ventures including recent trends and technology. In This FDP  50+ faculty members participated  from different colleges/Universities like Jamia Hamdard,  Delhi, HRIT Ghaziabad, Sharda University, Skyline , Accurate, PIIT  and GL Bajaj, Greater Noida . Enthusiastic participation of Faculty members makes this FDP great  success.
Department of MCA , pays special Thanks to AKTU Dean FET for their kind approval and giving opportunity to bring Industry professionals and academia under one roof and talk about upcoming demand for economic and social growth.  College Management to deep gratitude to each and every eminent speaker for their valuable presence